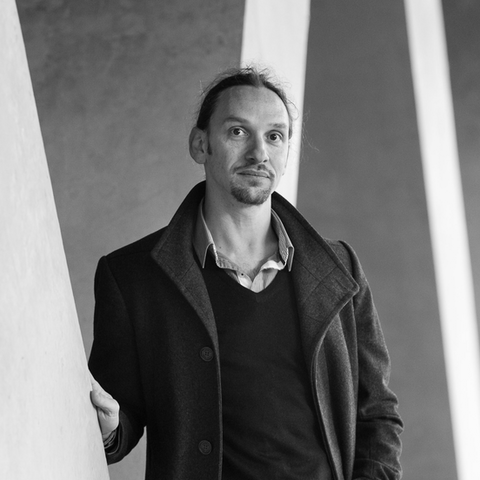 JEFA GREENAWAY (AUS)
DIRECTOR, GREENAWAY ARCHITECTS
Jefa Greenaway is Director of Greenaway Architects and Principal of Greenshoot Consulting and has spent more than two decades exploring the intersection of engagement, Indigeneity and the built environment across private, commercial and educational projects. Jefa is also a Lecturer at the University of Melbourne, focussing on Indigenous curriculum development. Jefa's practice projects include, the Koorie Heritage Trust, design principles for Aboriginal Housing Victoria and currently the Wilin Centre at the VCA and the New Student Precinct, for the University of Melbourne. His project Ngarara Place, at RMIT University was exhibited in the Australian pavilion at the 2018 Venice Biennale.
As founding chair of the not-for-profit advocacy group Indigenous Architecture + Design Victoria, member of the Public Arts Advisory Panel (City of Melbourne) and the Aboriginal/Torres Strait Islander Cultural Heritage Oversight Committee (Melb Uni) he seeks to amplify opportunities to embed Indigenous knowledge systems and design thinking within both practice and academia. Jefa is an active design advocate contributing to the International Indigenous Design Charter, as an Executive Committee member and Regional Ambassador (Oceania) of INDIGO (International Indigenous Design Alliance), a curator of 'Blak Design Matters' exhibition at the Koorie Heritage Trust, a public speaker on First Nations design nationally/internationally and as an architectural commentator on ABC Radio Melbourne.
TALK: 'WORKING WITH THE AUSTRALIAN AND INTERNATIONAL INDIGENOUS DESIGN CHARTERS' (2019)
The Australian Indigenous Design Charter, and subsequently the International Indigenous Design Charter, are comprehensive documents aimed to open discussion on the process of engaging with Indigenous knowledge in professional design practice through respectful exchange, open thinking, deep listening and a genuine commitment to learning. The Charters provide a system of accountability for commercial design practice beyond measures of excellence or impact, and instead take a focus on process. It must be noted the documents do not provide definitive answers, and stand as open documents freely available. They aim to promote a conversation that is currently lacking in industry and to be further informed by professional engagement as the design industry works to address the need for social accountability when working with Indigenous knowledge.
From discussions we have identified three key areas of apprehension and concern; firstly, non-Indigenous designers working with Indigenous knowledges; secondly, the cost involved in undertaking a comprehensive collaborative process; and thirdly, the time required to follow the Charter. This presentation does not apologise for these areas of accountability. Instead, we argue Indigenous knowledge should be valued and acknowledged in commercial practice just as other specialist knowledge is rewarded. More specifically, an understanding by the client is essential and with expanded understanding, it is hoped, over time, designers reach the point where the principles presented in the Charter are naturally embedded in professional practice in Australia, and subsequently in the world, leading to significant changes in the engagement between non-Indigenous designers and Indigenous knowledge holders in design practice.