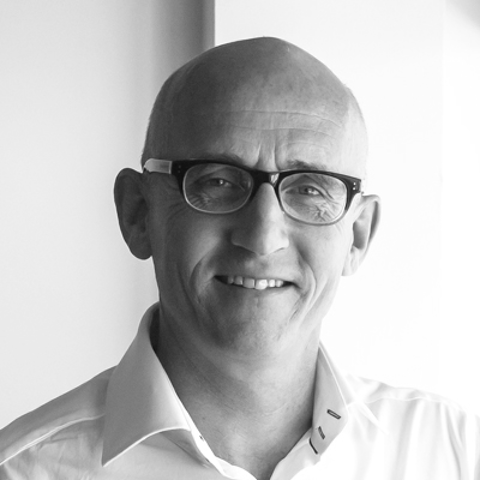 MARTIN GRANT (NZ)
DIRECTOR, THINKPLACE
Martin sees a future where commercial and social organisations use their scarce resources wisely; a future where innovation efforts are de-risked by decisions that are truly human centric and system realistic.  With more than 30 years' experience in the human centred design across a multitude of systems, Martin has deep expertise and experience in scaled systemic change.
Martin's recent work includes bringing a system-based approach to the transformation of the building and construction industry, helping deploy central government funding into the fresh water catchment revitalisation system and has just started work on a transition to productive and sustainable for New Zealand's primary sector.
Martin has a degree in business management. He is trained in the Cynefin model of systems. Martin attributes his success to being a pragmatic life-long learner and explorer in the areas of innovation, human centred design and systems thinking.
MASTERCLASS: 'SCALED SYSTEMIC CHANGE' (2019)
2-DAYS / 12-13 NOVEMBER
In a global world of fragile economies, inequitable connected global systems and uncertain climate-related futures, the issues that we are facing are not solvable with business as usual. Fuelling this is the urgency of time, exponential characteristics of problems and the increasing interconnectedness of our challenges. We need innovation, but not as we know it. The new type of innovation we need has immediacy, scale and operates within complexity.
Human centred or design thinking is a useful approach to tackle wicked problems. It helps us to imagine future experiences, gives us interventions and strategies to shoot for by seeking insights from humans, and helps us to re-frame problems by asking the right questions. It is proven method to generate great ideas.
For these ideas to have the desired impact in a complex system, they need to respond to the system they operate in. System dynamics such as emergence and adaptation require system solutions designed with system thinking.
System thinking appreciates that a system is dynamic and is constantly in a state of flux. A system is characterised by actors, power struggles, tensions, competing incentives, cultural norms and dominant mental models. Taking a snapshot of the system helps is to prepare pathways for innovation for ideas to take hold.
Scaling for systemic change at a system level requires layers of mindsets and tools that are about using innovation process effectively, being time-minded, transformation-biased and creating the right conditions for system-change.
In this 2-day masterclass you will be exposed to a set of synergistic analytic and intuitive skills used to improve the capability of identifying and understanding complex systems, of people and entities and their behaviours, then devising modifications in order to produce the desired effects.
Specifically, you will be able to:
Understand complex system elements and structures;
Model and visualise systems at different scales;
Understand complex system dynamics, adaptation and emergence;
Diagnose system flaws and root causes; and
Determine Intervention logic and leverage points.
RECOMMENDED FOR:
This masterclass is for people interested in building strong human centred complex systems thinking competencies. The masterclass is a hands-on learning experience founded in strong complex systems and behavioural insight theory, and steeped in pragmatism and practicality.
In the masterclass we will draw on our expertise and experiences with system thinking and human centred thinking joined together, to lead you though a variety of methodologies and methods to enable you to explore actionable systemic change at scale.