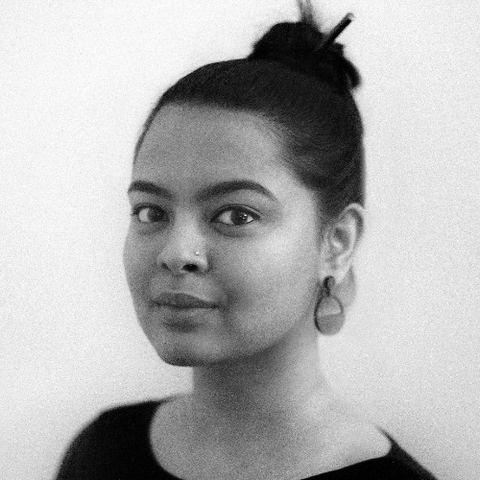 PUPUL BISHT (IND)
FOUNDER, DECOLONIZING FUTURES INITIATIVE
Pupul is a multi-disciplinary futurist and the Winner of the Joseph Jaworski Next Generation Foresight Practitioners Award 2018. Her practice is rooted in human-centered insights and lies at the intersection of futures thinking, design, and participatory research. She founded the Decolonizing Futures Initiative in 2018— a global project that aims to engage marginalized communities in imagining their preferred futures in order to inform and inspire inclusive policy-making and innovation. Through this initiative, Pupul is pioneering the use of her novel foresight method inspired by the Kaavad folk-storytelling tradition of Rajasthan, India— one of the first and only foresight methods directly derived from a non-western tradition.
In addition to her initiative, Pupul is currently working with NESTA, UK on developing a global anthology on Participatory Futures as the youngest member of Action Foresight's 'Global Swarm'— an internationally distributed team of futurists, reachers, and innovators.
With a belief that the stories we tell of our pasts shape our futures, Pupul has dedicated her multidisciplinary creative practice to uncovering narratives of alternative histories and marginalized futures that otherwise lie in under-explored nooks of our everyday world. Through the use of storytelling as a tool, she hopes to move foresight outside organizational confines and engage in mass dialogue about our collective future as a civilization.
Pupul has a Bachelor's in Graphic Design from National Institute of Design (India) and a Master's in Strategic Foresight and Innovation from OCAD University (Canada).
TALK: 'DECOLONIZING FUTURES' (2019)
Storytelling has been omnipresent in human culture, as a crucial tool for preserving memories of what came before and for imagining what could come after. Over the course of human history, the role of storytelling in transferring knowledge, communicating values and inspiring action has been undeniable. In the multidisciplinary field of futures studies, various narrative methodologies are extensively used to build impactful images of possible futures. However, the tools and methods used to support the generation of these futures narratives often carry the limitations and biases of a 'western' worldview. Since large scale projects rely on these narratives to guide the design of future-ready products, policies, and strategies, we cannot afford to ignore this gap that further perpetuates inequity and power imbalance between stakeholder groups and alienates under-served and marginalized communities. As we work towards building a better world for everyone, we need tools to facilitate the process of challenging and re-articulation of hegemonic ideas in favor of more collaborative and place-based approaches.
To address the glaring lack of non-western methodologies in Foresight, Pupul developed a new futures method inspired by the oral folk-storytelling tradition of Kaavad from Rajasthan, India. Designed to support and celebrate a diversity of perspectives in futures work, this innovative method has shown to be effective in inspiring transformative visions of the future that reflect the authentic worldview of its participants. By engaging in a conversation about their unique histories and challenges of their immediate environment, this methods encourages participants from historically marginalized communities to create visions of their preferred futures that reflect their distinct ideas of progress and are informed by their cultural ways of knowing, being, and doing. In this talk, she will also share insights, reflections, and anecdotes from the field of doing this work with communities in Canada, USA, and India.